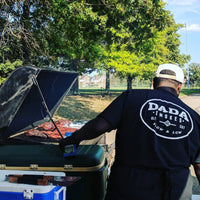 Our Story
Like many pitmasters, our journey started off as a simple goal, to provide quality food for my family and friends. After many years of perfecting my craft, I took the plunge of starting Dada Smokes catering in 2015. We take great pride in providing quality food that families and friends can share and enjoy together through our catering services as well as our weekly delivery options.
Quality Ingredients = Great Food
At Dada Smokes, we believe in fresh food and fresh ingredients. All our meals are freshly prepared in house. Everything from freshly, grated cheese for the Macaroni and cheese, to the sliced sweet potatos for Mama's Candied Yams are prepared daily for each meal.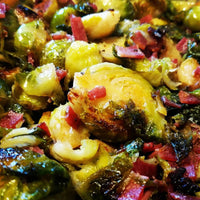 Our Services
Let Dada Smokes catering take care of the food preparation and serving, so you can relax and enjoy your event or gathering. Whether you are planning a small private gathering or a large corporate function, Dada Smokes can accommodate your group.We cater for all occasions and for all groups ranging anywhere from 10 guests to larger groups.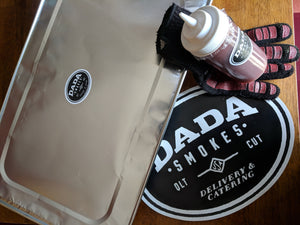 CATERING DROP-OFF SERVICE
This service includes serving spoons & tongs. Catering-quality disposables (plates, napkins, & utensils) are available for $2 per person. All food is delivered in disposable aluminum pans. Disposable chafing stands and fuel combo packs with set up are available for $10 each.
$200 minimum spend is required (not inclusive of tax or delivery fee)
$20 DELIVERY FEE within 15-mile radius. $35 DELIVERY FEE within 25-mile radius.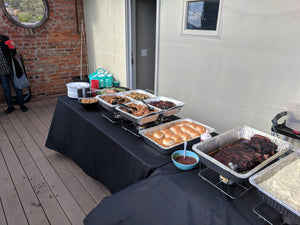 FULL SERVICE CATERING
This service includes professional staff, set-up and ALL equipment for self-serve buffet, including chafing dishes and serving utensils. Catering-quality disposables (plates, napkins, & utensils) are available for $2 per person. Formal Disposable Ware (clear plate, Reflections silverware, and dinner napkins) are available for $4 per person.
Full service is an additional $125 per staff member. 1 staff member per 25 guests is required on all full service events. Service is based on a 5 hour event time(set-up to break down).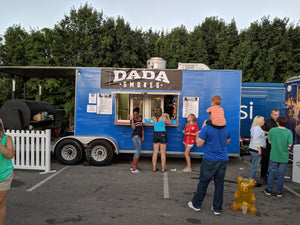 WEEKLY MEAL PLANNING
Avoid drive-thru urges and packaged food cravings by letting Dada Smokes provide your meals. It's not take-out. It's not boring meals. It's Dada Smokes.
Browse our rotating weekly menu and order enough meals to last you a day or through the week. We do offer our Meats & Sides by the pound. Menu and pricing is listed on the Menu under Weekly Drop-0ff. Weekly orders close Friday at 6pm EST! Meals are delivered on Sundays.
$25 minimum spend is required (not inclusive of tax or delivery fee)
$10 DELIVERY FEE.
The Menu
Your guests will rave about your great taste when you serve them Dada Smokes Bar-B-Q and mouthwatering side dishes. Choose from our delicious brisket, tender ribs, pulled pork or some of each. And don't forget our famous baked beans, down home macaroni and cheese, southern collard greens and of course, plenty of Dada's Bar-B-Q sauce! Our catering experts are ready to help make your special event – even weddings – the event no one forgets, so contact us today!

We offer several menu options with pricing to suit most any budgetary need. Our staff will ensure your meeting or special event is a success – and your guests will be talking about your good taste in bar-b-q for weeks!

Whether planning a business meeting or retirement party, a rehearsal dinner or a graduation party, we have the perfect menu for all your needs.
Meats
Brisket
Pulled Pork
Pork Ribs
Pulled Chicken
Smoked Chicken Wings
Pork Belly
Salmon
Grilled Steak
Grilled Chicken
Smoked Shrimp
Sides
Macaroni & Cheese
Baked Beans
Cole Slaw
Collard Greens
Brussel Sprouts
Cabbage
Mashed Potatoes
Yams
Potato Salad
Salad